Archive for News & Thoughts
Our video drone has gotten a workout this year.
Below is one really nice summer project we were involved with.
Production was for Joe Arruda Construction.
The Tiverton Public Library is located in Tiverton, RI.
I'd like to take a moment to congratulate Behan Bros & Joe Arruda Construction for conquering a long list of obstacles in order to keep the Tiverton Library moving forward.  This project was challenging on many levels.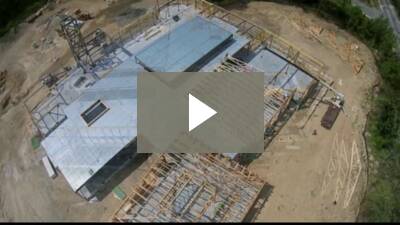 Tiverton Public Library, Tiverton, RI
Architect:
UNION STUDIO
Architecture & Community Design
140 Union Street
Providence, RI 02903
Construction Project Management:
BEHAN BROS., Inc.
975 Aquidneck Ave.
Middletown, RI 02842
Framing / Exterior Finishes:
Joe Arruda Construction, Inc.
6 Miracle Lane
Westport, MA 02790
Aerial Video production & editing provided by Mahar Enterprises, Inc.
Simplistic Business Model
…we are geared towards serving your needs.
No Health Insurance Requirements, No Benefits Compliance Issues, No Retirement Plans, No Unions, No Overtime, No Liability, No Wage Contributions, No Wage Garnishments, No Payroll Documentation, No Sales Tax.  We handle our business so you can handle yours.
The net result is a single line-item expense…providing you with the tools or talent you need to keep your business moving in a competitive/profitable (artistic and innovative) direction.
SIMPLE
Hourly Billable OR Fixed Cost Scopes of Work
Easy Pricing – We provide Hard Materials and Labor at our negotiated cost (plus 15%).
We show you every dollar of our cost.
We will quote it ("not to exceed" budgets for a whole project or just on individual line items).
We will handle entire projects and campaigns.
Your intellectual property remains yours (documented and secure).
Our intellectual property is at your disposal (documented and licensed).
We help you control and capture missed revenue.
AFFORDABLE
Centralized communication and billing for multiple vendors.
All of our providers are 1099 Contractors (in countless disciplines)
Individuals or a Team
Average Billable Rate of $40/hr
Outsourced Research & Development (but you own the results)
Our preferred contractors charge their other clients upwards of $150/hr….yet our average billable rate to you is $40/hr.  There is no debate about whether our service is a value.  We provide the same people that our competitors use.  But you get them at 50-75% less.
We use a mix of local, regional, national and international talent.
LOGICAL
If we worked for your company on W2, as an employee, our individual salaries would be 6figures (costing you a minimum of $75/hr after all overhead is factored).
By hiring us on 1099, you save overhead and we retain our autonomy to accept other projects.
Your clients never have to know we exist.
Your company can charge whatever you want to for whatever you ask us to deliver.
(honestly, you wouldn't be our first client to enlist our services at wholesale, obtain a result from our talented team, and sell/bill that result for much more than you paid for it)
THE CATCH:
We are not a sales team or brand ambassadors.
You should only enlist our help when you have a clear target, a budget and/or sales.
The only thing anyone on our team will ever solicit for you or your company is the resources needed to deliver our hired scope of work (finding and compensating the best available talent, to deliver on our promises).
We will not solicit your goods and services…or your "investment opportunity" (that is your job).  We will help you create tools to do your job more effectively, but we are not a sales team.  We are contract consultants and project managers.
Please have a "project" in mind when you contact us.

I have personally spent 20 years soliciting investors and partners, developing proposals, and working for startup projects on an equity participation or financier basis (that is how I can afford the luxury of working at wholesale, and why I have been successful in recruiting other talented people).

My teams understand and appreciate that they will not be distracted by the operational components of your business.  Their job is to execute a contracted request…and deliver useful tools.
Mahar Enterprises, Inc. is the only toolbox you'll ever need.
If you missed it, go back to our home page and see the list of things we do.
Want to know what we are capable of achieving in your business?
We don't advertise our successes because we don't get business by bragging (in fact, it is the opposite – we let our clients take credit for our work).
Here is the best way to solicit our help:
1. Tell us what your problem or target is.
2. Define the budget you have to attack the obstacles and support a solution.
3. Tell us the things you have tried (or those things which you think can't be considered or overcome)
- We will then exceed your expectations.
If you can't express those three things, you really shouldn't be calling anyone for help (especially not us).
I personally look forward to helping you solve your problems and achieving your goals.
Very best & thanks,
Mark
Sometimes the answer is right in front of you, but most of the time the answer is right next to you.
Lateral thinking is an important part of business agility.  While many businesses only think in terms of "forwards and backwards", the business world is multi-dimensional.  Many business owners only measure along one axis.  The pitfall of operating a business on one axis is that your problem-solving skills are reduced to one axis (your intellect becomes a product of your practice).
Rockets travel a trajectory (and very few businesses are like rockets).  A business can't travel on a straight mission line.
Business is more like sailing - traveling from one point to another requires a series of course corrections – tacking left, then right, then left again.
Maybe you're stuck with 1,800 branded racquet balls from a past event because of a quantity typo on the production order?
Thinking forward and backward makes that error a net loss…by creating "garbage"…all because someone hit the "zero" key one too many times.
Thinking sideways provides for creative "recycling".
Example: Charge another client a discount rate to add their logo to your overstock and give them away as promotional items (branded stress relievers?)…and use them to market the stress-relieving component of your business (product or service).  You have to advertise anyway, right?
Nothing is garbage until it is completely destroyed.
Gardeners, for example, appreciate the value of thinking sideways (because recycling is part of their craft) – what one person considers "waste", a gardner would consider "fertilizer".
Maybe I should make an illustration of a guy in cover-alls standing under your business with a bucket?
Nah – I think you get the picture.
Mark
(reprinted from 1/21/11)
Anyone who tells me they have tried and failed gets the same response: "Congratulations"
It isn't that I'm insensitive.  I just happen to see great value in failure (and people who learn from failure).  One doesn't become an expert marksman or a genius inventor without failing more times than they succeed.  If you can still walk, breathe, eat, crap and clothe yourself after a failure, what have you really lost?  Your failure isn't going to eat you…it just smacks you around a little.  You're not dead – you're smarter.
I would also like to reassure potential clients that I have never failed for a client (I actually have great track-record).  I have, however, experienced countless failures as a result of things I took on myself (or with a team that was willing to test the waters with me on an "idea").  I openly admit it though – The thing I've personally invested most in is "failure".
Some of my greatest ideas and efforts resulted in my most expensive failures.  I simply consider it tuition (paid to "The University of Mark Mahar" – I've rung up quite an acumen from that institution).
Those failures - which I funded myself (or that our team has tested at our own expense) - are precisely what every MEINC client is getting when they hire  us.  Our consultants are chosen for their failures as well as their successes.  Cumulatively, we've achieved some wildly incredible things for pennies on the dollar (or that others said simply couldn't be done at all).  We didn't get there without failing.  Companies don't typically admit their failures, but I see no reason to hide behind them.  It is this willingness to punish ourselves (in order to improve the chances of success) that our clients NEVER have to be a "test case".
For every product, service or licensing deal that feeds me, there were 20 before it which took food off my table.
Similarly, every dollar of exploitable value that our team sees in distressed properties (real estate, planes, businesses, brands, commodities, etc…), exists because of how the product of failure/adaptation equals success.
As a business owner, inventor, artist, etc…you have probably tried and failed more than you want to admit.  Is there not value in those failures?  You are good at what you do because you can run across the minefield of your industry or craft (at a full sprint – doing in a matter of seconds what would take someone else several intense and fearful hours).  Why is that?
With rare exception, success is just a collection of failures which are put to good use.  Failure is an opportunity to learn.
I try to learn something every day.  I embrace failure.  Failure is my friend.
Failure is wisdom.  Learn, adapt and succeed.
In business, the easiest manpower recipe for success is to rent someone else's failures (and rely on them to make it look easy).  That's why we hire experts.  That's how we make it look easy.  That's why our clients hire MEINC.
As an apprentice Carpenter (15 yrs old) I learned a valuable lesson - There is no such thing as flawless work.  The important thing is to achieve a flawless looking result.  It is how well you adapt to your inevitable mistakes that makes you a craftsman.  EVERYONE makes mistakes.  Not everyone knows how to dodge the big ones or salvage the small ones (or hide the irrelevant ones).
The point of all this is that no MEINC client should ever feel shame in communicating a failure.  The fact we're talking about it means we're about to resolve it (learn from it and adapt to it…closing in on success).
(Failure+Failure+Failure+Failure)       = Success
(Learn+Communicate+Adapt)
1. Know the difference between an exercise and a mission.
2. Always treat an exercise like a mission or it isn't worth the exercise.
2. Never treat a mission like an exercise unless you're prepared to throw a whole lot of resources at it. 
3. Communicate (failure & success – allowing people to learn and adapt).
Either way, congratulations are in order.
-Mark
(reprinted from 1/21/11)
…just quickly, because I get asked a lot:
Nightclubs, Artists and Web Designers need to know how to appropriately license the music they plan to use.
Artists who want to know the finer points of whether they should associate with a performance rights organization can ask questions below, or contact me.  I will be eventually dedicating an entire portion of the forums to this topic.
BUYERS may have to deal with all of the organizations (or limit themselves to the "library" of one organization).
PUBLISHERS & WRITERS can only be represented by one organization.
www.ascap.org (ASCAP; American Society of Composers, Authors & Poets)
www.bmi.com (BMI; Broadcast Music, Inc., as an answer to ASCAP)
www.sesac.com (SESAC; fastest growing…because it is the newest)
If you're using music in your media, presentations, nightclub, website, and/or business (even for automated phone attendants), you're supposed to have a license for the content.  This is how songwriters and publisher get compensated for bringing music into the world.
We are happy to walk clients and artists through the process and equip them with what they need to know about licensing, for two reasons:
1. We're a publisher and it is in our interest to keep things above board.
2. It is REALLY EASY to operate legally – and usually it inspires people with ways that THEY CAN PROFIT from the licensing dance.
As with all things – do it right the first time.  It takes us about 30seconds to answer a question (and it saves you the headache of hearing from somebody's lawyer).
Example: In order to use the original recording of the Cheers Theme Song for a promotion (for THE Cheers! Restaurant in Boston), I had to license the song rights from the artist.  Licensing the actual recording used in the show came at a proposed cost of several thousand dollars (not attractive for a one-time promotion or simply for use on their website).  Think about it though - They haven't been using the song for over 3 decades because, the second they executed that use, it represented a substantial amount of money.   Or DOES IT?
Solution: After 20 minutes in the studio (recording a new/similar piano& vocal track), I licensed the mechanical rights for the original and handed them a track they could use.  Their total cost ended up being $120…and they can do whatever they want with it now.
Seriously – One of the most recognizable brands in the country and they waited 30 years to add their most recognizable theme-song to a promotion.  Knowledge is power.  I'm happy to demystify this and many other topics for my clients (don't wait 30yrs for a $120 solution).
Two things are owned when you hear a song on the radio:
1. Mechanical Rights (the words and music – as it would appear on a piece of sheet music) – extremely affordable
2. Master Recording (the owner of the actual audio recording that you hear) – not always affordable
- Mark
(reprinted from 1/13/2011)
There is a difference between Fame & Fortune – I don't know how many ways I can communicate this to my clients, so I'm just gonna say it:
"Fame is easy. Fortune (on the other hand)…well, that's kind of a b#tch." – Mark Mahar
Fame doesn't require a real plan…it just requires volume, a spotlight or a spectacle.
Fortune requires a plan (and sometimes it even demands silence).
The question isn't whether you can get in the spotlight, or even if you can convert an audience into customers, the REAL question is:
 "What do you have if your audience doesn't act?"
Typically you'll just have an invoice as proof you paid for your 15minutes of fame.
Instead – We CREATE ASSETS that you can sell or license to get your money back.
Marketing Firms, Advertising Agencies, Publicists and Promoters will all quote you a price to REACH an audience.  Anyone who promises you that an advertising campaign or promotion will be successful for your sales is over-extending themselves (nobody is savvy enough to predict whether your outreach will result in a transaction…they can only guarantee that your message will reach the audience).
At Mahar Enterprises, Inc. we make bold promises but "consumer action" isn't one of them (it is always the goal, but nobody can make that promise).  We will, however, promise you a safety net – a backup plan.  EVEN IF your advertising campaign or promotion isn't as successful as it needs to be for your sales, we can promise that any promotion we help you with WILL result in creating an alternative value somewhere else in your business or career…so you're at least guaranteed to recoup the money you spent on advertising & marketing.
What?  (You might want to read that again.)
Who could possibly secure a marketing campaign with real assets?  WE DO…and you CAN.  Why put your dollars to use "only once" with conventional advertising? You don't buy anything else in your business to use once (and then throw it away) unless it is a direct expense.  Why should advertising be any different?
I can't tell you how many times I've heard this statement:
"The [PICK ONE] market has 3million customers and if I can just capture [TINY PERCENTAGE] of it, I can make a fortune"
(There are a 20million people who love Frisbees…and if I can reach 1% of them I'll sell 20thousand of my new toys, right?  Wrong.)
Go ahead – roll the dice on a "reach only" campaign and see if it pays for the 10,000 units you had to manufacture (or the phone bank you hired for the influx of sales orders which never came to your new 800#).
If I had half the budget that some of my competitors charge for a regional tv ad campaign, I'd be able to put a company on the map (nationally) and inject enough asset creation into a business (just with the savings) that even if the ad campaign fell on it's face they could still show a net profit by liquidating the new assets (and start all over again).
I'm not saying "buy the cow and get the milk for free", I'm saying:
"buy the entire farm (for the price of a cow), get the milk for free (and sell the farm if your milk business isn't what you thought it was gonna be)".
Who else can promise you that you'll have a net profit from advertising?  I can.
I would never make the claim that I've always succeeded in getting an audience to take action.  BUT, I've ALWAYS succeeded in walking away from my investment in marketing with something I could sell for more than I spent on the marketing…and in some cases I've had to sell those things (no worries – that's why I bought them in the first place).
Doesn't that sound like something that is worth discussing?
Are you paying for advertising right now?
Isn't the prospect of saving money, creating more assets and reaching a larger (more emotionally connected) audience worth a few minutes of your time.
Call me.  Email me.  Tell me what you're buying for your money. If I can't double the effectiveness of your effort and spending (while creating NEW assets) for the same budget or less, I'll write a feature story about your company AND the campaign you're running.  I'll post the story right here on my site - I'll tell the world you are a savvy business owner who is TRULY getting the full bang for their marketing buck…and that you stumped me (you'll be the first).
Advertising doesn't buy a plan…it buys an audience's attention (like funding a megaphone).  With the decreasing attention span of audiences it becomes increasingly challenging to motivate them towards action.
Advertising isn't an asset…it is a liability.
Wouldn't you like your marketing to create assets (and reduce your liabilities)?
Introduce yourself and say, "I would like to see if your Passive Marketing Strategy is the right fit for me".
Solutions!  It is what we create here (win/win/win).  For example: Either way, one of us will end up impressed, you're guaranteed to reach a larger audience, and my visitors will have a new product or service to look forward to (bonus: we all learn a little something we didn't know yesterday).
Let's discuss your plan, product, service or campaign.  What have you got to lose?
Mark
(508) 985-0001